Working Effectively with Culture
Thu 23 Aug 2018, 08:30 am
Thu 23 Aug 2018, 04:00 pm
Waitakere Community Resource Centre
8 Ratanui Street
Henderson, Waitakere City - West Auckland
Conferences Workshops Classes,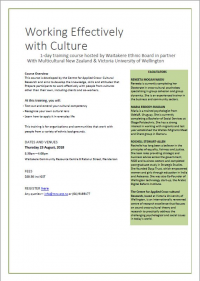 As New Zealand continues to become culturally, ethnically, linguistically and religiously diverse, the need for cultural competency skills will increase alongside these changing demographics. As a result, Multicultural NZ in collaboration with CACR and Waitakere Ethnic Board is offering 1-day Intercultural Awareness and Communications training for NGOs, Community Organisations and Agencies that work with ethnic migrant and refugee communities.
The benefits that you can gain from this 1-day course are development of knowledge, skills, and attitudes needed to operate in an increasingly multicultural world, recognise your own cultural lens and how you apply it in everyday life to cross-cultural interactions, and use real-time activities to test out and extend your cultural competency. You or your organisation/staff can benefit from this 1-day course by growing intercultural competence - making better employees, fostering respect and mutual understanding of your clients, and conflict and misunderstanding will decrease.
You or your organisation will have an inclusive organisation, where staff demonstrate culturally appropriate behaviours and skills, hence provide better customer service and retention.
Date: Thursday 23 August, 2018
Time: 8.30am – 4.00pm
Venue: Waitakere Community Resource Centre, 8 Ratanui Street, Henderson, Waitakere City - West Auckland
Cost: $80.50 incl GST
Register here.
Please do not hesitate to call on 04 9169177 or email info@mnz.org.nz if you need more details.