News
Multicultural New Zealand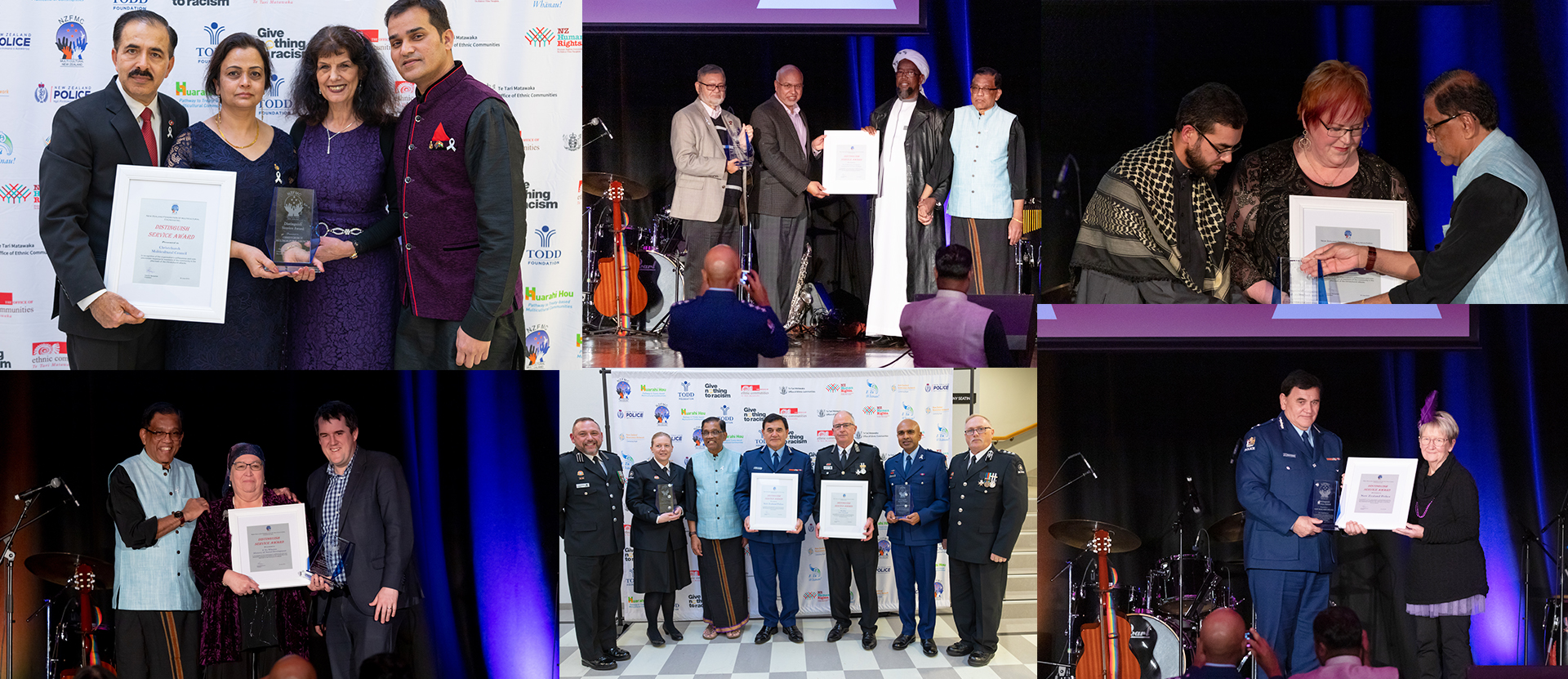 Selflessness, compassion and bravery were all celebrated at the Multicultural New Zealand (MNZ) Community Awards Gala Dinner at the Lower Hutt Events Centre on June 29.
The enormity and significance of the Christchurch mosque attacks on March 15 encouraged MNZ to dedicate this year's awards to organisations and individuals that went way beyond 'the call of duty' to serve and care for the community.
The six Distinguished Service Awards made at the event went to: the New Zealand Police, St John New Zealand, The Federation of Islamic Associations of New Zealand (FIANZ), Inland Revenue, the Christchurch Multicultural Council, and E Tu Whanau (Ministry of Social Development).
The six organisations all received an award and a citation for their contribution to the community during and after the Christchurch attacks. The Police and St John also received citations for 'extraordinary bravery'.
Deputy Commissioner of Police, Wallace Haumaha, paid tribute to victims, the injured and Canterbury police as first responders. He acknowledged the "the long and valued relationship" between the Police and Multicultural New Zealand.
"The service programmes your Regional Member Councils (RMCs) and Newcomer Networks organise play an important role in supporting successful settlement outcomes, social inclusion, community cohesion and wellbeing for all communities," he said.
St John's Canterbury District Operations Manager, Wally Mitchell said his team were humbled to receive the award which "made them feel part of something very special".
President of the Federation of Islamic Associations of New Zealand (FIANZ), Dr Mustafa Farouk said FIANZ thought they should be giving the award to Multicultural New Zealand.
"We live in one of the best countries in the world, we were welcomed here and we really appreciate what everyone has done for us," he said.
Dr Farouk paid tribute to the Kaiwhakahaere of E Tu Whanau Anne Dysart, and the former Race Relations Commissioner, Joris de Bres, for their contributions to the multicultural community.
Chair of the Christchurch Multicultural Council, Surinder Tandon said the Council stood in solidarity with the victims and their families and wanted to keep sharing the message of unity and caring with the world.
Sharon May, Acting Chief Financial Officer for Inland Revenue (IR) said while some might say that the taxman or woman didn't have a heart, the service and support that IR staff provided following the Christchurch attacks showed they did.
Niyaaz Sayed, also in the IR Crisis Response Team said he was proud to work for an organisation "where leadership and people responded in such a selfless and loving way".
Anne Dysart said she was impressed by how well the community and the government could work together to make things happen.
"Within a day we had seven people in Christchurch, who spoke nine different languages. They were all helping people who were lost and confused with commitment and passion."
She acknowledged the Multicultural New Zealand for the leadership they showed - helping New Zealanders work together to look after each other with aroha and manakitanga.