News
Multicultural New Zealand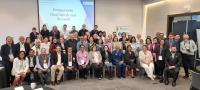 Community leaders from around the motu converged at Tamaki Makaurau on May 6th for MNZ's two-day Huarahi Hou Conference - Te Tiriti-based Multicultural Aotearoa towards 2040. The kaupapa for the weekend was to address concerns about immigration, settlement and colonisation from a Tiriti-based perspective, as we approach 200 years of Te Tiriti o Waitangi.
With over 100 attendees from communities in Tamaki Makaurau and around the country, these topics were discussed through a series of panels that encompassed views of academics, politicians, tangata whenua, community leaders and public servants, culminating in a Conference Declaration on the Sunday morning. Many attendees remarked on the powerful, educational and diverse nature of the whakaaro shared, and the insights granted into communities beyond their own.
The first panel,

facilitated

by Professor David MacDonald and

comprised

of

Lupematasila

Misatauveve

Dr

Melani

Anae,

Tā

Mark Solomon, Harry Tam, and Dr Ganesh Nana

, discussed the current direction our immigration policies will take us, and an argument for a

longterm

Tiriti-based population strategy

.

Following this was an interview with Immigration Minister Hon Michael Wood

, again

facilitated

by Professor MacDonald, where

the Minister was asked about issues

including

Hate Speech and racism, Māori involvement with immigration

policy and approach,

infrastructure in Auckland and

immigrant exploitation in the

labour

market.

The second panel,

facilitated

by Professor James Liu and made up of speakers Butch Bradley, Dr Negar

Partow

, Meng Foon and Pancha Narayanan,

discussed

different aspects

of what robust cultural infrastructure would look like in NZ to successfully support a growing and diversifying population under

Te

Tiriti o Wait

angi.

The last session of the day saw attendees break out into parallel sessions to reflect on the korero of the day from the

perspectives

of W

omen, Seniors, Youth and LGTBQI+

respectively

.

This gave attendees time to process the content of the day and understand how it may apply to the different areas of their communities.
Tina Ngata and Paul Hunt started the Sunday off with a

n incredibly compelling discourse on

colonisation

. Tina unpacked

the

story and ongoing effects

, trauma and inequalities

of

colonisation

that have been

internalised

with

in

the

New Zealand way of life

,

followed by reflections from Chief Human Rights Commissioner

Paul Hunt. This korero resounded with everyone in the room in a way that it was carried with

us for the rest of the day.

The second panel

of the day brought stories from

some of

MNZ's partners in government

– Sally Clarkson from MSD and Rakesh Naidoo from NZ Police, who

provided

a valuable perspective on how change can be i

ncorporated and implemented through government departments.

Before breaking for lunch, the Conference Declaration was announcedc – a summary of the key themes and calls to action that had come from the confere

nce. This will

provide

the basis for a declaration book to be published in time for MNZ's AGM and the general election later this year.

The final session of the conference was a political forum, where representatives from Labour, National and the Greens party were presented with a copy of the Declaration and asked to speak

to

the

themes of the conference.

Vanushi

Walters, Melissa Lee and Ricardo

Menèndez

March all gave

informative context for how their respective parties and policies could support the community's vision for a Tiriti-based Multicultural Aotearoa.
With so much to take away from this gathering, it is MNZ's wish to see communities bring some of the calls to action back into their spheres, and for us all to remember the shared aspirations for safe, healthy and flourishing lives for our children and grandchildren, that connect us all. MNZ will now be working with professors David MacDonald and James Liu to develop the Declaration in time to launch in September 2023.