Media Release
Multicultural New Zealand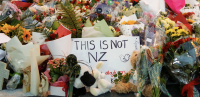 Multicultural New Zealand (MNZ) and its whānau of Regional Multicultural Councils from around the motu, pause to remember the 51 innocent lives lost in the tragic Christchurch mosque shootings four years ago. This atrocious act of violence shook not only New Zealand, but the entire world, as we mourned the loss of our fellow human beings and the senseless hatred that led to their deaths.
MNZ President Pancha Narayanan says, "As we reflect on the events of 15 March 2019, we remember the victims and their families, who have endured unimaginable pain and suffering since that day. We honour their memory by standing together against all forms of hate, bigotry, and violence, and by striving to build a society that values diversity, inclusion, and mutual respect. Communities came together in a time of need and demonstrated that there was no space for any form of violence or discrimination in our society."
The victims included people from Afghanistan, Bangladesh, Egypt, Fiji, India, Indonesia, Jordan, Malaysia, Mauritius, Pakistan, Palestine, Somalia, Syria, Saudi Arabia, Turkey, and UAE.
"The Christchurch mosque shootings were a reminder of the power of hate and the need for us to continue to work together to build a more peaceful and just world. We must not forget the lessons of this tragedy and continue to fight against all forms of intolerance, discrimination, and extremism. This 15 March anniversary is a time to reflect as it provides an opportunity for us all to remain steadfast as we continue supporting each other," added Mr Narayanan.