News
Multicultural New Zealand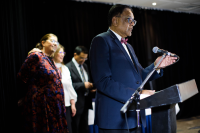 The New Zealand Federation of Multicultural Councils hosted its 34th AGM and Community Awards Dinner on the weekend of the 16th – 17th September 2023 in Wellington. Twenty-four regional multicultural councils gathered to recognise the achievements of the past year and evaluate the direction of the Federation going forward.
The message was clear; Government must stop investing in infrastructure retrospectively. New Zealand's growing and diversifying population must be resourced to settle in New Zealand as tangata tiriti with fair opportunities and able to respond effectively to challenges posed by climate change.
"The nation's infrastructure investment must do better than merely attempting to reflect the population trends," said NZFMC president Pancha Narayanan. "Infrastructure must pre-empt the trends. We are done with building infrastructure for yesterday."
"We cannot and must not continue investing in our national infrastructure at the rate that we have been in the past and mislead ourselves that it will support the massive surge in population growth expected through the proposed immigration policy to recruit from overseas to fill the workforce vacuum experienced by the various industries in Aotearoa NZ". Narayanan added.
He also called for all incoming immigrants to go through Kiwi1Host as part of their induction to working in New Zealand. This he added "is important for the continued effectiveness and efficiency of the great service culture that we have all become accustomed to in Aotearoa NZ"
The Federation launched their 8-point Proviso for the 2023 incoming government. It is to be made available to all communities and every individual intending to stand for the General Election 2023. This document details the priorities for Aotearoa NZ as a nation on our journey towards Te Tiriti based Multicultural Society. The Proviso has been made publicly available at multiculturalnz.org.nz/publications.