New RMC websites
An easy and cost-effective way to gain more from your website and to join our multicultural community.
Updated: 19 October 2022
If you require assistance, contact MNZ on info@mnz.org.nz or Flightdec on mail@flightdec.com (subject 'RMC notes').
Offer
This offer is made to Regional Multicultural Councils by the New Zealand Federation of Multicultural Councils (NZFMC), in association with Flightdec (website platform).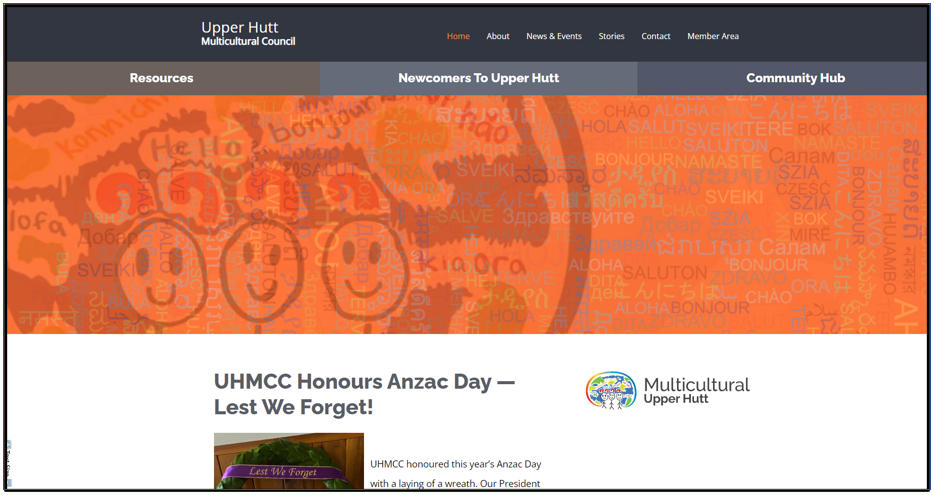 For NZFMC and RMCs (that are part of this initiative), this programme extends well beyond the establishment of websites. Stronger communities are connected communities and we are promoting websites that are connected so that each Council has a voice nationally and regionally, simply through posting content for broadcast sharing in each website. And the NZFMC website will power content to your website, so you are not isolated and alone.
Flightdec, our digital provider, will deliver a new website to any member Multicultural Council with no up-front cost in the set up and build - this cost is covered by NZFMC.
A new website
The new website might give you a starting website, or replace an existing website, or sit beside your existing website so that you can use the benefits of the new capabilities, while keeping the existing website as a main option – the last option will require some further discussion.
Once your website is built, Flightdec will charge your Council a flat monthly subscription fee for hosting and basic help desk support of $25 plus GST. The first charge starts from the beginning of the first full month after go-live. You might alternatively wish to pay an annual fee (up-front) of $300 plus GST.
The new website allows you to generate up-to-the-minute content, such as blogs, articles, media releases, news items and event pages (posting pages), that are automatically broadcast any of it out so that your pages are automatically displayed in shared space (as a back-link) in the NZFMC website (acting as a hub website), and into a growing community of content sharing Multicultural Council websites, plus beyond into other Flightdec websites. This provides you with greater exposure and more traffic to your website, than is possible with a conventional website. In addition, you join a community of content sharing Multicultural Council websites where your website receives display links, within a designated community space.
Your new website will be highly specified to display unlimited numbers of pages; be optimised for mobile, search and social media; easy to manage; and have a wide suite of tools including your posting pages.
Ideal for your needs
Because the website is free in the build phase, the website is a template that cannot be tailored to an individual Council's brief, beyond using your graphics and logo to create an individual visual look for the website. The website template is designed to be ideal for the functioning of a Council or stakeholder, but is configured so that choices can be made, once you're using the website self-management capabilities. Once the website is live, a website manager has complete flexibility over page content and menu names.
The website will have in-built styles for fonts, colours and basic layouts. For ease of operation (and peace of mind), especially if more than one person is managing the website, we do NOT recommend that managers attempt to change or customise these styles.
If Councils request a special design or structural alterations to the website, after or during the build phase, extra may be charged and Flightdec will be happy to quote for such work.
Delivery of the website
Hosting needs to be undertaken on Flightdec's servers and is a requirement of the platform broadcasting functionality.
Delivery of the completed website happens on completion of the technical build and does not depend on the loading of all content by the organisation. The website content is ultimately the responsibility of the website owner (RMC), while required support and guidance can be provided by NZFMC.
It is expected that any website set up, under this arrangement, will receive at least 12 month's commitment from each website owner (RMC)..
Your new model website will join a content sharing community. As such NZFMC will provide you with support and encouragement, as well as hints and tips about how you can use your new hub model website, and other communications, to be more effective.
Home page demonstrating the basic structure.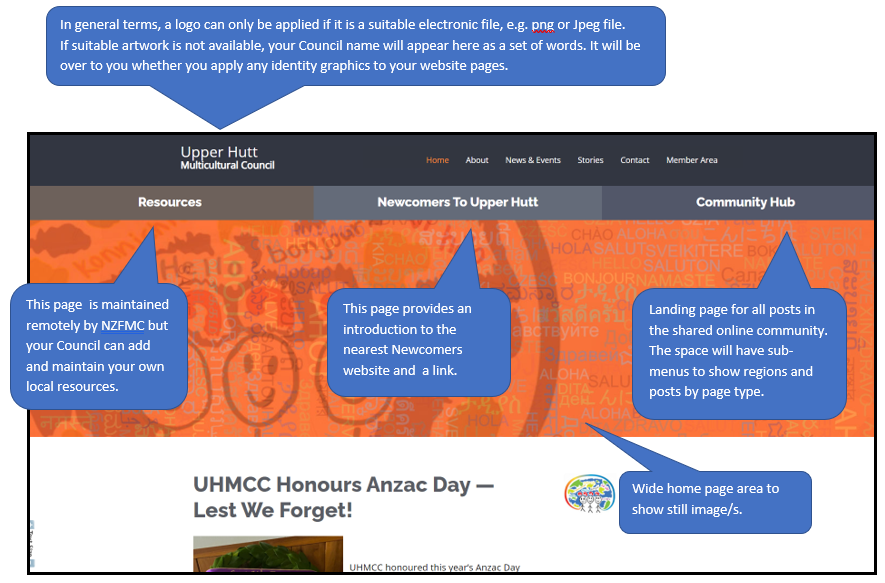 Things to check
Read these items and then use the online checklist here.
Your URL (domain address): We need your main URL and any other secondary URLs you may have for the website. If you do not yet have a URL, you need to register one, with an Internet Service Provider (ISP such as SiteHost) in your organisation's name, and then let us know the URL.
Note: A URL registration for 12 months costs around $30 to $50 and is completely separate from your Flightdec $25 monthly subscription.
When the new website is ready to go live, ask your Internet Service Provider to point the URL to the Flightdec web server with this IP address: [223.165.77.249]. . It will pay to do this in an email so no mistakes are made. While it might state the obvious, ask for a straightforward re-direct, rather than using an iFrame.
Email addresses: In setting up the website, will have needed at least one URL (website address) which you might have registered or asked Flightdec to register on your behalf.
You might also wish to have URL email addresses, e.g. if your URL is poriruarmc.nz your email addresses might look like this raj@poriruarmc.nz
If you did the URL registration, instruction your provider on the email addresses you want and the existing email addresses you wish them to be linked to.
If Flightdec registered your URL, pass that information to Fraser Carson on fraser@flightdec.com (subject 'RMC notes'). Please note that Flightdec will not operate an email account on your behalf, but we will do the address registrations and organise the redirects.
Note that it is advisable to have a generic email address for the main website manager, e.g. admin@poriruarmc.nz
Note: A URL registration for 12 months costs around $30 to $50 and is completely separate from your Flightdec $25 monthly subscription.
Electronic files of logo/s and other important graphics needed to create the top banner and apply colours in the build. The top banner logo needs to be ideally around 100 kb. Jpgs are best for photos, gifs are better for flat colour graphics like logos, pngs for transparent backgrounds.
Note: if the logo is not suitable, for whatever reason, standard text will be applied to the top banner.

Wide image for the home page: Your starting website needs a good image to create impact and a good impression. You might later elect to rotate images in a slideshow or link images to pages. The image needs to be at least 1400 (wide) x 600 pixels (deep).
Note: if you don't have a suitable starting image, we may be able to help you with a stock image.

An indication about what content is transferrable from any existing website? NZFMC and Flightdec can provide some assistance in uploading first content and this may assist setting up the page structure.
Links might be needed, e.g. to your social media? Email us the cut-and-paste of your online addresses.
Share button on a website? If not, it will pay to set up an account with a provider, such as Sharethis.com . Once that's done, you will be able to access some code, which you need to provide to NZFMC so that buttons can be installed.
Google Analytics number: Is the organisation already registered for Google Analytics? If yes, we need the ID number.
Starting content: Copy needs to be provided in a Word file. Any photos or page graphics should be supplied as a Jpeg, at least 800 pixels wide and not bigger than 1400 pixels wide. Smaller images cannot be enlarged.