News
Multicultural New Zealand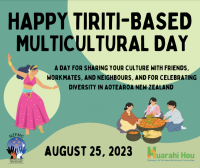 The 25 member Regional Multicultural Councils around the motu and Multicultural New Zealand wish every New Zealander a very happy Te Tiriti-based Multicultural Day.
Across the country, there are multicultural festivals and other community gatherings that will be happening surrounding this day, led by Multicultural Councils in your communities.
Please join in on these festivities to celebrate our cultures and diversity with the blessings of local Tangata Whenua.
We are all natives of some land. Here in Aotearoa we can find our turangawaewae (place to stand) through the invitation offered to all immigrants by the first nations people of Aotearoa through Te Tiriti o Waitangi
Let us all bring our colour and culture to work and community today.
Happy Te Tiriti-based Multicultural Day to all New Zealanders!