News
Multicultural New Zealand
Agreement reached on kirpan ban complaint
Joint statement by Cricket World Cup 2015 Ltd, Multicultural New Zealand and the Supreme Sikh Council of New Zealand, 24 April 2015
During the India v Zimbabwe ICC Cricket World Cup 2015 pool match at Eden Park on 14 March, seven patrons were identified through an entry gate search as carrying a kirpan. This was deemed to be in contravention of the general prohibition on knives in the tournament's venue entry conditions and, following a discussion with venue security and a Sikh community police officer, the patrons did not enter the venue. They were refunded the cost of their tickets.
Multicultural New Zealand (the New Zealand Federation of Multicultural Councils) subsequently lodged a complaint of discrimination on the grounds of religious belief with the Human Rights Commission.
The local organising committee for the Cricket World Cup met with representatives of Multicultural New Zealand and the Supreme Sikh Council on 14 April to discuss the issue. Both parties approached the matter openly, resulting in a positive discussion and resolution of the complaint.
Tournament organisers recognise that the general prohibition on knives under the tournament's venue entry conditions had an adverse effect on members of the Sikh community who wear a ceremonial kirpan as an article of their faith, and regret that the patrons were unable to attend the match for this reason.
Tournament organisers have agreed to write to the persons affected expressing their regret at the impact of the rule on them and informing them of the agreement reached. They will inform the International Cricket Council of the matter for consideration in the planning of future events and write to the New Zealand Government to raise that the matter is unclear to some and that clarification for future event organisers to ensure consistent messaging of Government's position on this matter may be helpful.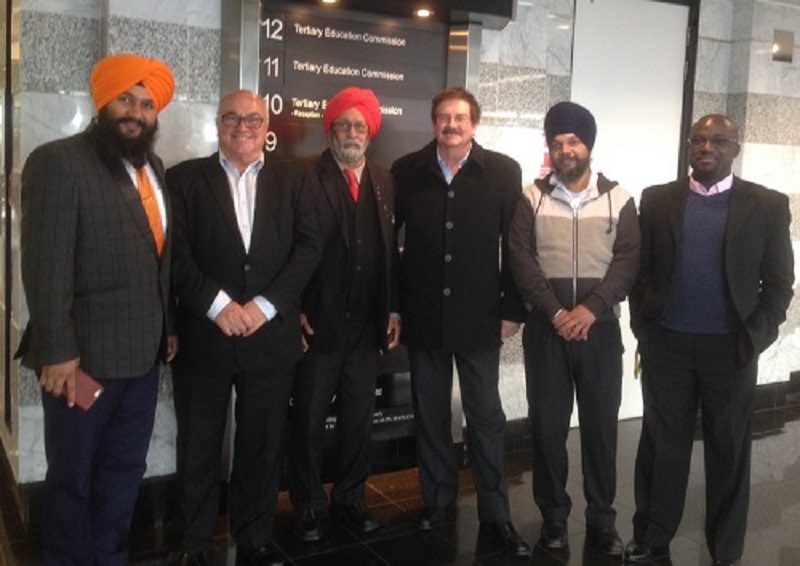 Representatives of Multicultural New Zealand and the Supreme Silkh Council at the mediation. From left: Daljit Singh (Sikh Council), Joris de Bres (Advisor, Multicultural NZ, former Race Relations Commissioner), Ganges Singh (President, Seniors Council, Multicultural NZ), Matt Robson (lawyer Sikh Council, former Cabinet Minister), Trilok Singh (patron denied entry to Eden Park) and Tayo Agunlejika (Executive Director, Multicultural New Zealand).