News
Multicultural New Zealand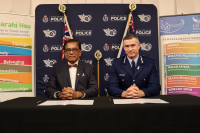 It was a momentous day for Multicultural New Zealand on Saturday, 14 May 2022 signing a Memorandum of Understanding with New Zealand Police at the National Library Auditorium, Wellington.
The event was attended by our regional multicultural council presidents, multicultural communities, representatives of Tangata Whenua, MPs, Mayors, senior government officials, commissioners, and executives of non-profit organisations.
The event was also attended by ambassadors and high commissioners of Malaysia, China, Peru, Pakistan and by representative of South Africa.
Some of the highlights of Multicultural New Zealand and New Zealand Police relationship:
A collaboration on the Race Unity Speech Awards that give voice to youth on matters that are important to them.
Advice and coordination on Police recruitment campaigns that has seen police become a more diverse organisation with uniform consideration such as the turban and hijab now incorporated
Advocacy for Police Liaison Officers appointments that has resulted in a closer connection with police and diverse communities.
Recognising outstanding community volunteer service through the MNZ distinguished services award.
Community response to significant tragedies such as the Canterbury Earthquakes and 15 March 2019 terrorist attacks where MNZ activated their networks across the country to support our communities through fundraising, service provision and ensure unity and solidarity.
Participation by members in community patrols to work with police to keep communities safe.
Providing insight, reassurance, and communication to communities when specific crime issues have affected them such as bag snatchings and small business crime.
Strategic advice to police as part of the Commissioners national forum and regional advisory boards to ensure the voice and views of communities are included in policy decision making.
Advice to guide police service delivery including the New Zealand Maori, Pacific, and Ethnic strategies.
Education workshops to communities on the role of police and laws of New Zealand including family violence, road safety, rights, and responsibilities.
Resource development with police on initiatives such as the Reference guide to Religious Diversity, multilingual website and phrase book, multilingual crime prevention publications.
Training to police on how to appropriately understand and engage with diverse communities.
Settlement support programmes that build trust and confidence between diverse communities and police through sport, cultural festivals, observance of religious celebrations, visits to places of worship and police venues such as police stations and the police college.
Initiatives that support inter community understanding such as the Huarahi Hou programme to Treaty based Multiculturalism through Noho marae and understanding local history.
Interpreting and translation assistance to police.
Support to police when international conflicts and tragedies have impacted communities locally such as Afghanistan, Myanmar, Ukraine, by bringing communities together to dialogue and sow unity and not division within our communities.
Collaboration on programmes that aim to prevent and address crime and victimisation in an alternative manner such as the Gandhi Nivas police safety order programme and Te Pae Oranga programme to address primary offending holistically.
Guiding and partnering on initiatives to address the recommendations from the Roya Commission of Inquiry into the 15 March 2019 terrorist attacks such as hate crime.
Pandemic response by supporting service delivery and communication to communities with English as second language and those with limited access and knowledge of local services including former refugees, new migrants, international students, migrant, and seasonal workers.
Providing access and connection to a diverse national network to consult and ensure the pulse of the community is beating within police
PDF of the MoU is available here for download:
MNZ-NZP-MoU
The photographs of the event are available on our Facebook page which can be accessed here:
https://www.facebook.com/media/set/?set=a.5323764051007076&type=3
Event video: