Call for greater diversity on school boards
Media Release
29 June 2015
Multicultural New Zealand has called for action to make school boards of trustees more representative of the communities they serve.
A representative of the NZ School Trustees Association attended Multicultural New Zealand's AGM in Upper Hutt this weekend to discuss the issue. It was noted that Asian students now make up nearly 20 per cent of Auckland's school children, but Asian parents make up only two per cent (80 out of 4000) of Auckland's current school trustees.
MNZ President Alexis LewGor said her organisation had offered to work with the School Trustees Association and the Ministry of Education to improve representation in the lead up to next year's trustee elections.
"We hope that this issue can be discussed at the NZSTA national conference in Auckland later his week" she said. "It's no use waiting till the elections next year. The groundwork has to be done now."
Delegates also welcomed the recently adopted Migrant Settlement and Integration Strategy developed by Immigration New Zealand and the draft Police Ethnic Relations Strategy.
Ms LewGor said the NZ Police had set a good example in developing positive relationships with ethnic communities and increasing the number of a police from ethnic communities.
"The challenge now is for other government agencies to do the same. Every department and council should be considering how they can best serve an increasingly diverse community and be representative of and accessible to people of all ethnicities" she said.
Other topics discussed were family and community safety (with the Ministry of Social Development) and concerns about international students being given false expectations of employment and residency opportunities before they arrive and being vulnerable to exploitation.
Ms LewGor, who is from Rotorua, was re-elected President for a further year. Other executive members are Arish Naresh (Tairawhiti) Vice President, Nirmala Nand (Manawatu) Secretary and Dinesh Taylor (Auckland) Treasurer).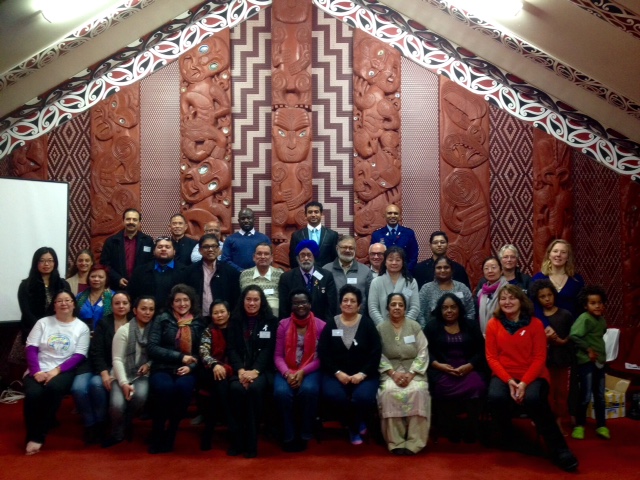 Delegates to the Annual General Meeting at Orongomai Marae in Upper Hutt June 2015